Quality is never an accident.
                  It is always the result of
High intention,

Sincere effort,

Intelligent direction and

Skill full execution.

 
Project Quality and Management Processes
Quality is productivity of employees, who, after having a proper knowledge of work (after receive the training, knowing tools and instruction), execute their jobs.
Lack of quality …….
Non sustainable workmanship,

Unsafe structures,

Delays,

Cost overruns,

Time overruns

Disputes
As per ISO 9000 the general principles for QMS revolves around following points:
Customer focus

Leadership

Involving people

Process approach

Systems approach

Continual improvement

Factual decision making

Mutually beneficial relationships
What is said about Quality (some additional quotes)?
Quality provides solutions to problems before they occur

Quality is flexibility, the willingness to change to meet demands,

Quality is efficiency in doing things quickly and correctly,

Quality is a process of ongoing improvements

Quality is meeting a schedule, being on time,

Quality is a set of coordinated activities to direct and control an organization in order to continually improve the effectiveness and efficiency of its performance

Quality———–Output fit for use
 Characteristics of quality
Quality is
Technical           – Strong and durable

Psychological           – Aesthetics

Time oriented            – Reliability and availability

Ethical                     – Courtesy honesty
Approach to Quality
Quality has been a matter of concern in product
development and as such it has passed through various stages and approaches during its development, from traditional to scientific and management approach. The stages from statistical approach to TQM are as follows;
Statistical quality control

Process development                       – 1940-50

Japanese Quality Revolution -1960-70
(Raw material – design – production – marketing)
Zero defect movement USA         – 1970

Total Quality Management         – 1980-90
Project Quality Management Processes
Plan Quality Management:
Assessment of project quality requirements, specifications standards for acceptable product delivery and the necessary documentation and records required for quality operations
Manage Quality:
Implementation of Planned Quality
managements processes for achieving desired Goals
Control Quality:
Monitoring and control the
Implementation methodology.
 Inputs, Tools and technique and Outputs of Project Quality Management Processes (As per PMBOK 6th Edition)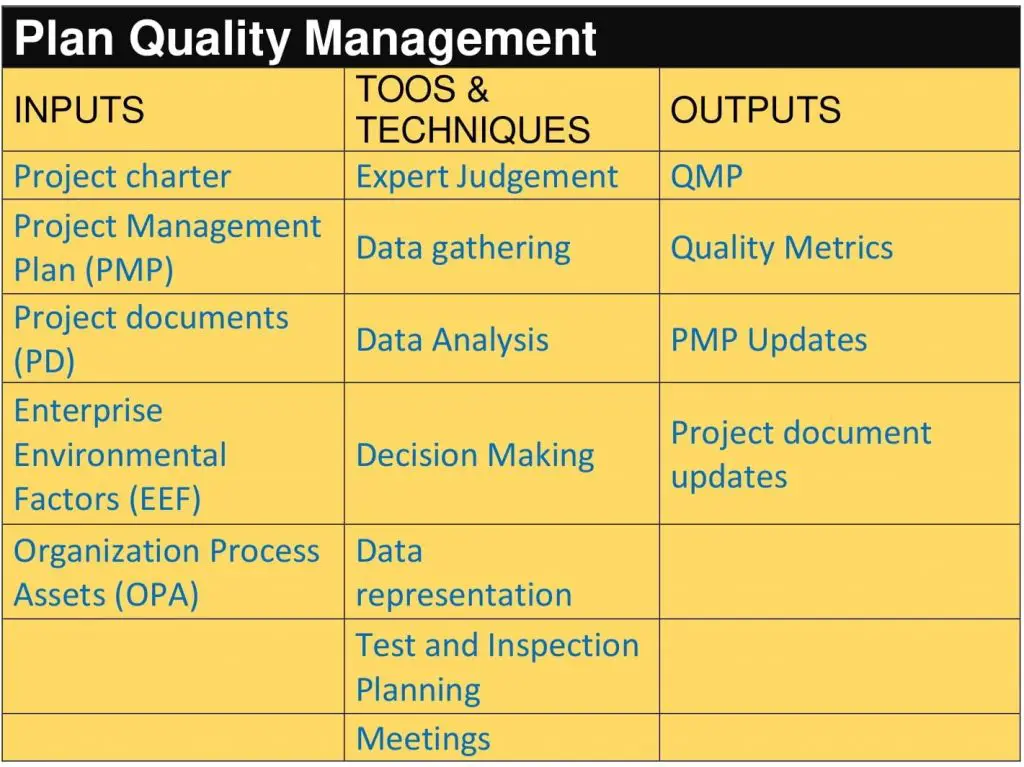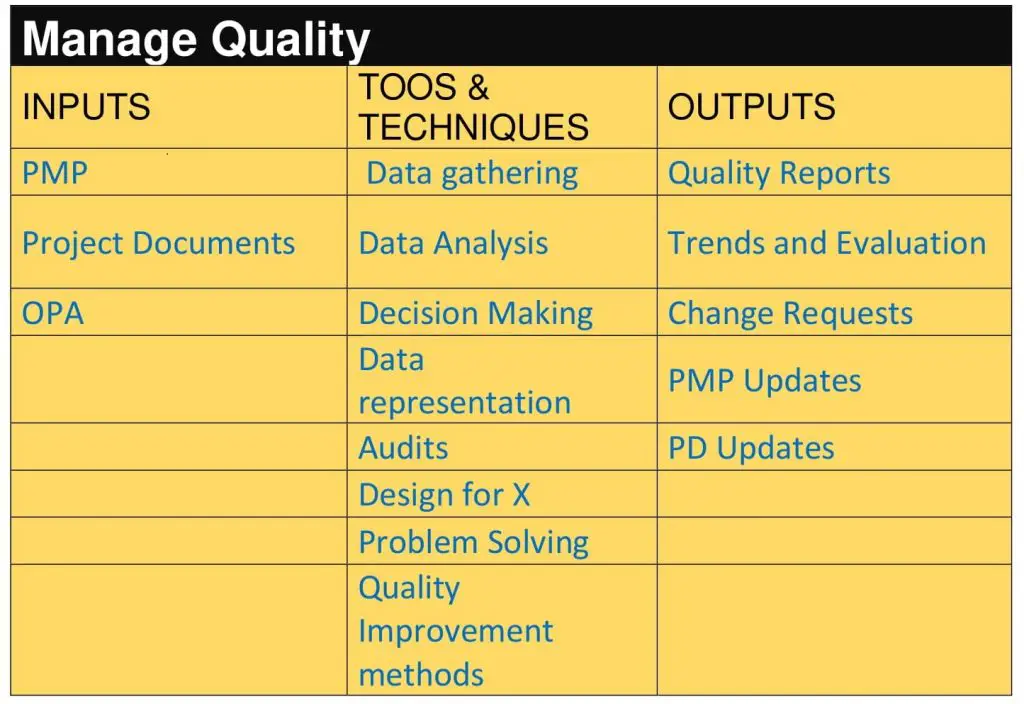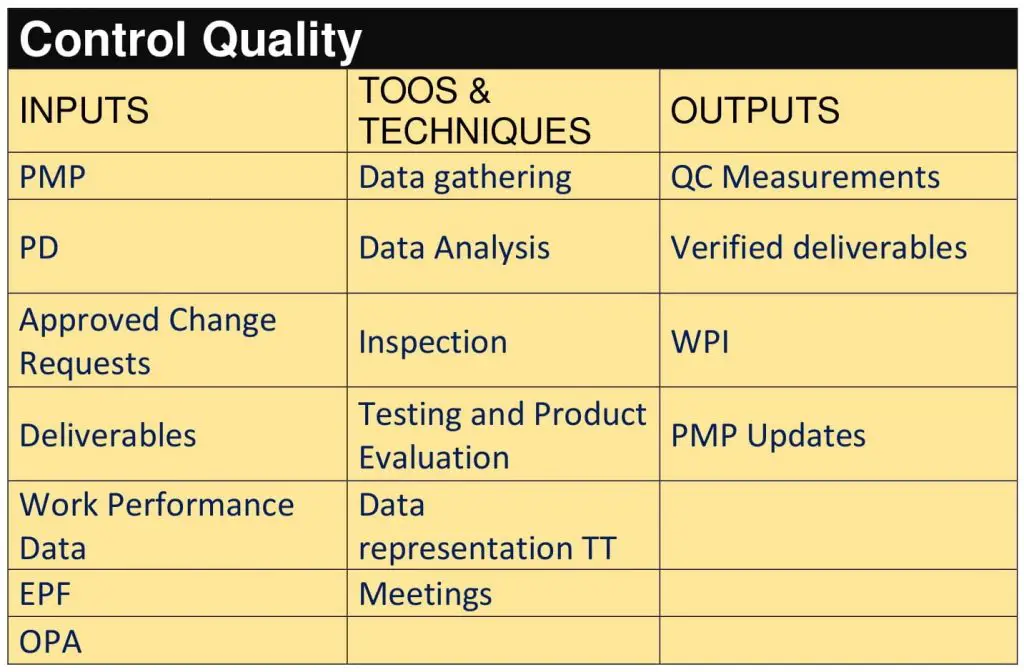 Actions required for Project Quality Management
Find organization's policy, procedures, and align them to need of the project.
Know about the project in depth and find out the processes required for its completion.
Know about all the processes, procedures specifications etcetera and tailor them as per project requirement. May use PMBOK guide and Project management standard in tailoring the project.
Ensure that quality plan incorporates the project scope and the work specifications.
The plan must be reviewed during the project execution process. Any changes required must be got approved and be made the part of quality plan.
Ensure that quality assurance measures and quality control metrics is objectively defined for use.
Quality plan should be focused on customer's requirements.
Incorporate in quality plans the,
Quality Standards
Quality procedures
Sampling and testing methods
Documentation of raw data and test results.
Data analysis processes
Quality report generation
Add quality aspects in methodology of different works
Set standards for acceptance of test results
Verify the assumptions made in quality planning
Ensure that the required staff is posted in laboratories and fields
Quality team must be dedicated one and should no perform in influence
Staff must be aware of lessons learned  on quality matters from the other projects
Quality issue logs should be maintained and monitored for urgent resolution.
Manage quality within project constraints
Issuance of reports
Holding meetings and reviews
Quality communication at site, site meetings, and maintaining Site Order Books
Electronics access of communication to seniors
Approval of suppliers
Laboratory audits and quality audits
Development of laboratory system
Joint inspection of works for taking proactive measures
Staff training for laboratory staff and other staff engaged in construction.
Record keeping
Gold Plating
Gold plating in project management means adding additional features to the product as regards to its aesthetics, cost time etcetera, which are outside the scope of the project. Anything done beyond project scope will be risky as it may create an impression on the customer that the project may be having surplus money. Any such saving should be brought in the notice of sponsor/customer timely.
Project works are complex, and it is advised to do what is needed. Project scope should not be changed. Gold plating may have effect on project constraints
If project manager of team upgrades the specifications of the project without customer involvement, then it is violation of specifications and quality.
 ————————————————————-
General-Blog posts from Tec Consults shall be based on the topics given in the 'JOIN US' page, but not limited to available list of topics on the http://techconsults.in. Viewers are now free to join TecConsults and can contact sksaxena@techconsults.in and info@techconsults.in    for their suggestions for managing the main and sub topics.                                                SK Saxena
Our other blogs which may be helpful for the current blog: