General
The test is performed about IS: 4031 2019 METHODS OF PHYSICAL TESTS FOR HYDRAULIC CEMENT (PARTA 6) DETERMINATION OF COMPRESSIVE STRENGTH OF HYDRAULIC CEMENT OTHER THAN MASONRY CEMENT
Purpose
To determine the "compressive strength of cement". The manufacturer provides the Material test Certificate (MTC) giving the details of type of cement with all its properties and the production period / date along with this test report.
The tests can be done in standard test laboratory and in the field laboratory.
Apparatus for Compressive strength of Cement
Trowel to mix, Non-porous plate,
Graduated cylinder,
Weigh balance,
Cement
Standard sand
Compressive Test machine conforms (IS: 14858 (2016)
Standard cube mould-70.6 mm (IS: 10080- 2018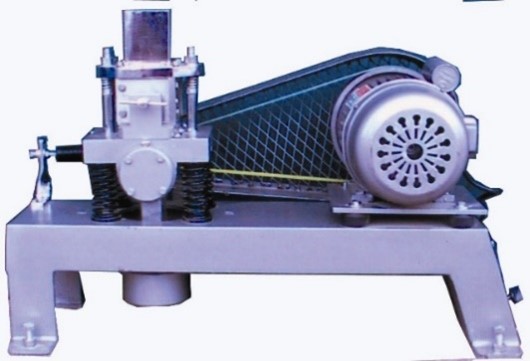 Standard Sand (Enmore Tamil Nadu) is used for this testing conform to IS: 650-2018, passing 2 mm IS sieve and retaining on 90 microns (without silt).
The sand is available in three grades and shall be used in equal proportions. (Take 200 gm cement and add 200 gm sand from each of following 3 grades amounting to total 600 gm)
Passing 2 mm and retained on 1 mm
Passing 1 mm and retained on 500 microns
Passing 500 microns and retained on 90 microns
Test Environment:
Room Temperature around 27 degree C at approximately 65 percent humidity.
Moist room temperature around 27 degree C at approximately 90 percent humidity.
Cement Compressive Strength Test Procedure:
Find the standard consistency of cement paste. (let it be P). The quantity of water to be used is (P/4+3) percent of mass of sand and cement.
If the consistency of cement past is 30 percent, the water requirement shall be 10.5 percent as per IS Code. (ASTM suggest flat 10 percent water to the weight of cement and aggregate)
Take 200 gm of cement and 600 gm of standard sand. Mix the cement and sand with the trowel to ensure that the mix is free from lumps and has a uniform colour. Add water in required quantity and mix it further for about 3 minutes.
Prepare the cube mould and fill it up in three layers, taming each layer by 20 strokes. Vibrating table use is better. The purpose is to remove all the voids from the mortar contents.
 T
he sample so prepared is kept in room temperature environment as given above.
 After 24 hours mould is removed and specimen is placed in moist environment and the cube is tested after 3 days, seven days, and 28 days.
  (The loading must be applied axially on specimen without any shock
 and increased at the rate of 35 N/mm2/min. till the specimen
collapse. Note down the reading from Compressive testing machine
 when the specimen starts failing).
 

Cement Compressive Strength Forma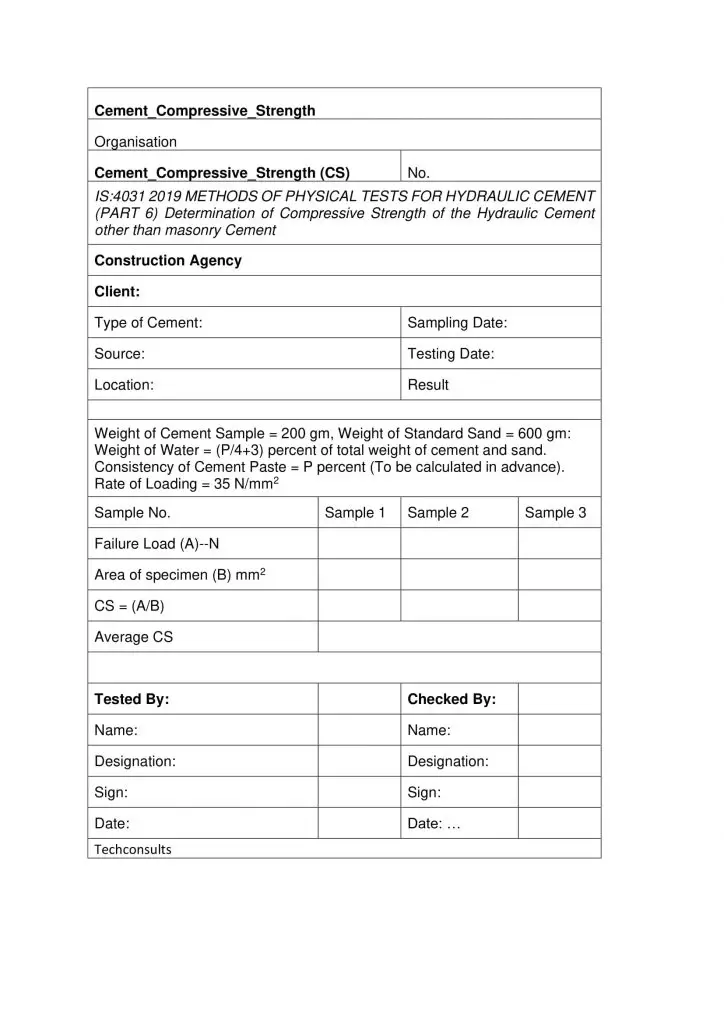 Cementitious and Supplementary Cementitious Material Characteristics
Cementitious and Supplementary Cementitious Material – Cement Tests